Riding to Indy was a blast, one of the highlights of my summer. I was all keen to sign up for the whole weekend next year, but then this happened. With no Indy on the calendar any more, the chance of me riding south to see Valentino and Marc do their thing has just gotten quite a bit more extreme. If Indy was level one, here is what more commitment would look like.
Level 2: THE RIDE TO TEXAS
Riding to Texas, ironically, takes us right past the Indianapolis Motor Speedway. This one's a bit tricky. The Texas race next year is in April. We can still get snow in April so it would have to be a weather permitting exit and then get south as quickly as possible to get clear of impassable roads.
Indy was a ~780km ride, Texas is over three times further at 2564kms; it's basically a diagonal trip across the majority of North
America. The
IBA
has a
Bunburner 1500
, and the ride to Texas just happens to be
1593 miles
. Could it be done in 24 hours? If it could, it would need some recovery time afterwards, and some serious physical and bike prep beforehand.
If the race is on Friday, Saturday and Sunday of April 8-10, 2016, I'd leave on Wednesday, April 7 (very) early morning, aiming to cross the border and be out of Detroit before anyone wakes up. Baring any major traffic problems I'd land in a hotel in Austin Thursday morning early, and pass out.
Friday, Saturday and Sunday would be practice, qualifying and race day, and then I'd begin the trek back at a more sedate pace. Five hundred mile days would mean a stop in Arkansas and Indiana on the way back, leaving Sunday afternoon and getting home late on Wednesday, April 13th.
Could a ride to The Circuit of the Americas be completed within a week from Southern Ontario? That would be over 3000 miles or a touch over 5000kms in seven days. Boo ya!
Level 3: THERE IS ANOTHER!
There is another MotoGP even I could ride to, but if you thought Texas was a stretch, this one is something else entirely.
The Argentinian MotoGP event takes place the week before Texas at the other end of the world. If you thought the exit for Texas might be tricky, this one is downright diabolical.
This is a 13,655km (8485 mile) odyssey that would mean riding across two continents and crossing one of the highest mountain ranges in the world (not to mention the rain forests and dozen or so international borders). Nick Sanders managed three trips up and down the Americas in 45 days, but he's crazy, and legendary. John Ryan, introduced to me through Melissa Holbrook Pierson's fantastic book, The Man Who Would Stop At Nothing, did Prudhoe Bay, Alaska to the tip of Florida in an astonishing 86.5 hours, but he too was crazy, and legendary.
The ride to Argentina would have intention. This wouldn't be a wishy-washy wandering around the world ride, it would have Terra Circa like intent. I've thought about riding the Americas before. Riding to Rio is about 16,500kms and I thought it would take 60 days (275kms/day - higher in North America, lower elsewhere). Riding to Termas de Rio Hondo would be marginally shorter. Pushing the average to 340 kms a day, it might be doable in 40 days.
That would mean a departure date of February 18th. If you thought leaving in the first week of April might be weather problematic, leaving in the third week of February is positively terrifying. I'd aim for a leaving 'window' between February 15-20 looking for clear roads to make a quick break south to get clear of the hard water.
This happens to fit nicely into a semester at school so it would be an easy absence to manage logistically. With that in mind, I'd find myself in Argentina in the first weekend of April. The end of the world is in the same country south of me, so hitting Ushuaia before coming back north and seeing Machu Picchu would be a nice idea. Going down that way is a few hundred extra kilometres out of the way.
At this point do I have to return the bike? If so, the ride back could take place over 18 weeks. If not, the flight back happens in just under one day (though coming back via Texas would mean I'm on a plane with a whack of MotoGP types!
What to take? Honda, Yamaha, Ducati and Suzuki all have factory presences at MotoGP and they each offer a viable choices:
Yamaha's Super Ténéré is what Nick Sanders does his double ride up and down the Americas on. When they took it apart after the trip the engine still looked brand new. This is one tough bike. That story impressed the motorcycle Jedi I work with so much he bought one. It'll handle less than perfect roads and swallow miles with ease... and it's bullet proof. I'd get mine in Rossi colours. Whatcha think Yamaha Canada?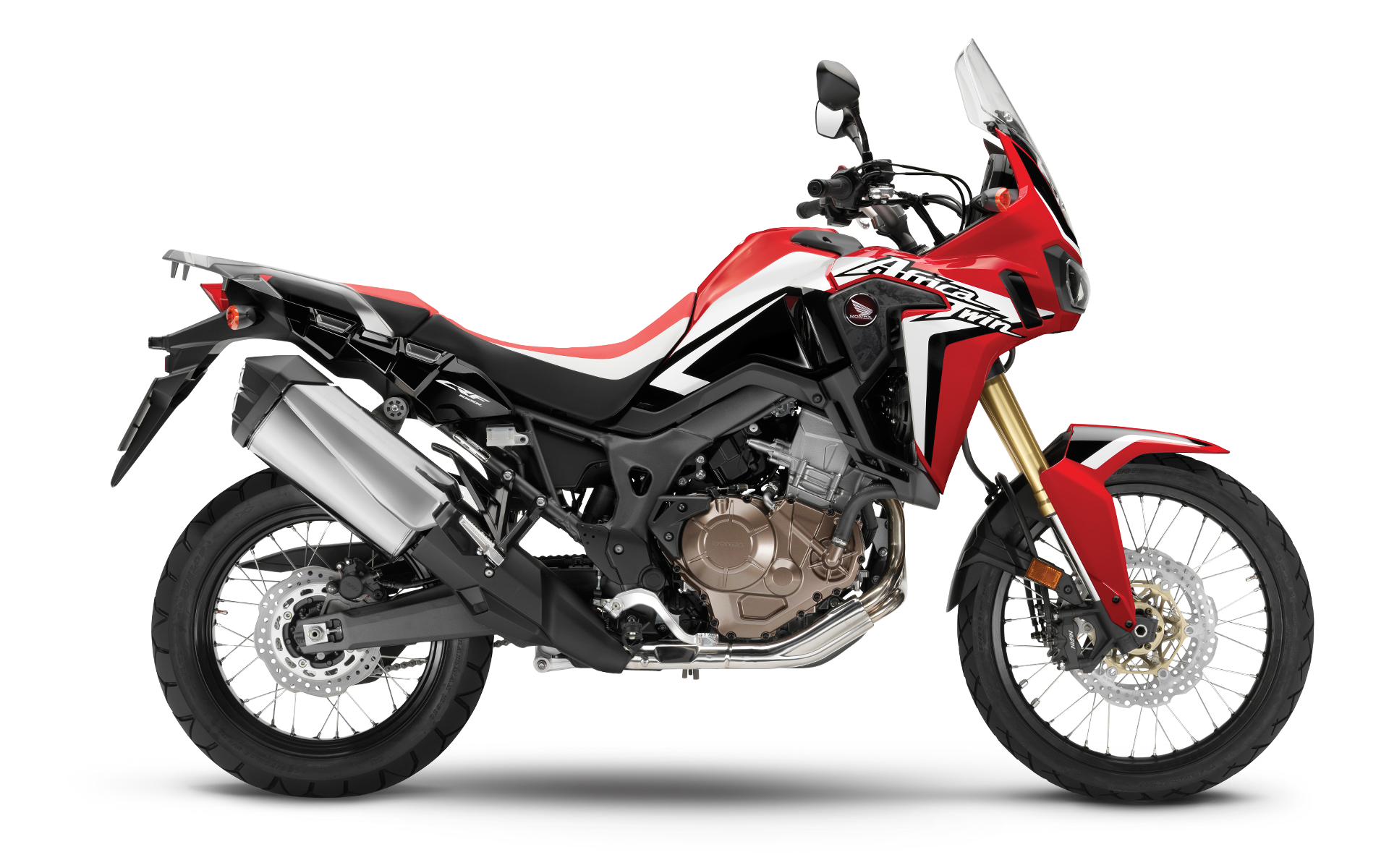 Honda's African Twin is being resurrected next year. Rumours have this bike being off-road capable and more than able to manage anything Central and South America might throw at it. Canada to Argentina would be a solid way of proving the new Africa Twin's metal, whatcha think Honda Canada? I'd get mine in Marquez colours.
Ducati's Multistrada is a long distance beauty with lots of tech thrown at it. It doesn't have the dependability rep of the two Japanese bikes above, but it appears a very capable all-rounder that would have no trouble managing the variety of roads to Argentina. It's so pretty and I haven't heard of any epic treks made by one, so it's a bit of a risk, but what's a trip like this without some risk? This ride would give the Multistrada that world beating rep.
Suzuki's V-Strom is a road focused adventure tourer, but it has some off road cred after BIKE Magazine took one from the UK back to the factory in Japan where it was made. Anything that can ride across Asia can manage Canada to Argentina. Suzuki has only recently returned to MotoGP, it'd be nice to remind everyone that they're there by riding a Suzi through all those countries. Whatcha think Suzuki Canada?
My opportunity to ride to a MotoGP race hasn't ended with the death of Indy, it's just taken on a higher level of commitment.